>

Black Pearl King Oyster Log Inoculation Kit
Black Pearl King Oyster Log Inoculation Kit
SKU:
The Black Pearl King Oyster is a new oyster mushroom hybrid from Japan. It is the result of a cross between a European and an Asian Pleurotus ostreatus and grows big firm mushrooms.
Unlike other oyster mushrooms that are more fibrous towards the base the Black Pearl King Oyster has a beautiful firm texture all the way through meaning it can be cut into strips and discs and cooks evenly.
Similar texture to King Oysters with a delicious umami flavour.
Each log kit includes 30 inoculated wooden plugs plus bee's wax to seal the holes and log ends.
An 8mm drill will be required, you also need to melt your wax.
30 pugs are enough to inoculate a meter long log of 15-20 cm diameter (any bigger than this they become hard to handle).
Logs should be fresh / green and less than 8 weeks old and only inoculate one type per log.
> Hardwood is best (oak, beech, birch, alder, ash, elm etc).
> Fruit trees (apple, plum, cherry etc) are ok but will take longer to fruit.
> Soft wood / pines / conifers must be avoided due to their natural anti-fungal properties.
Available items will be posted out the following week direct from Marvellous Mushrooms HQ, shipping is included in the items price
For enquiries and help regarding your plug kits, please contact info@marvellous-mushrooms.co.uk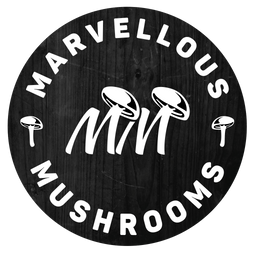 Please note image is to show mushroom only, not kit, this kit contains plugs for log inoculation.